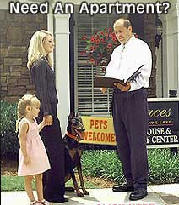 One of the questions we hear often is "How do I find an apartment where I can take my dog?" Below are some links to more information on pet-friendly housing to help you keep your large dog when you move.  But first, let's start with planning:
Moving with Pets - This article gives great advice on how to adjust your pet to the area you're moving and how to keep them calm during the move.

Pet Resume Guide - This helps you create a resume for your pet with fill in the blanks. This document can help when presenting pets to potential landlords.

Pet-proofing your home - Here are some tips on keeping your pup, and you home, safe from each other.
And here are links on more pet-friendly housing:
People With Pets - www.peoplewithpets.com is a resource directory of pet friendly apartments and hotels  as well as links to pet related services and products.

ApartmentList.com - the world's first apartment-matching engine. For pet owners, the inability to find pet friendly housing is one of the leading causes of animal abandonment. You can modify your search for just pet friendly housing on our website by checking the "Pet Policy" option from the "Advanced" tab at the top of the page.

Trulia
Nationwide search that lets you specify "Pet's Allowed"

www.apartments.com
You have to dig a little, but you come to a page when you can select "dogs allowed".

www.MyCheapApartments.com
Search that can be used across the country to find pet friendly apartments.

petapartments.net
Strictly pet-friendly housing

rent.net
Another large one, but you can specify pets

apartmentguide.com
This site did not work in Netscape. Could be my machine, but...

www.hsbcanimals.org//housing.htm
A directory on Baltimore County Humane Society's web site.

www.myapartmentmap.com/pet_friendly/
National "Pet Friendly" apartment search that promotes the rescue of animals.
 
PadMapper is a great free resource for anyone from college students to professors for looking to find an apartment.
 
Zumper is a free apartment rental search tool used by millions: 1 million apartments and homes across the country, you can instantly ipply for an Apartment: Submit a rental application & credit report with 1 click, search with Advanced filters (pet-friendly, no-fee, property type, amenities) & more!
 
Pet Friendly Travel Guide: http://www.tripbuzz.com/pet-friendly-travel-guide/
If you know additional links, please pass them on!